Wrapping Rice Dumplings CancerLink Class
In preparation for the upcoming Dragon Boat Festival on 12 June, our CancerLink team and self-help group, Orchid held a class teaching the art of wrapping rice dumplings, one of the most famous Chinese traditional customs.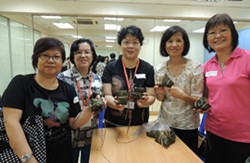 30 CancerLink members converged at CancerLink Wong Tai Sin, on 1 June, to attend the workshop run by volunteer tutor, Phoebe.
On the day, attendees were shown how to make lip-smacking rice dumplings –pyramidal leaf-wrapped packages filled with glutinous rice, meat, beans, salty egg yolks, and other exciting things – which are traditionally consumed as part of the Dragon Boat Festival celebrations.
The event was enjoyed by all with many of the attendees expressing delight and looking forward to sharing their new found skills with family and friends.
Our thanks go out to our self-help group, Orchid, who organised this successful event.
Photo album of the event, please click here.
For details of upcoming workshops at our three CancerLinks, please call CancerLink Central on 3667-3000, CancerLink Wong Tai Sin on 3656-0800, CancerLink Tin Shui Wai on 3919-7000.