With our range of free services and programmes so you're never alone as you navigate life with cancer. Our professional and dedicated teams help individuals and families manage their emotions, facilitate communication and provide opportunities to enhance both emotional and physical well-being.
We help people cope with all aspects of cancer in the following ways: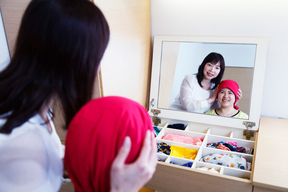 Cancer has a physical impact both during and long after treatment has resulted in survivorship. We provide care to address symptoms, side effects and chronic health conditions for our clients, as well as sourcing financial relief for those in need.
Our cancer support hotline provides immediate psychological and social support, practical advice, comprehensive cancer information and further details about Cancer Fund's full range of services. Timely crisis management and nursing consultations are also available to callers.
Nursing and Dietetic Consultation
Our registered nurses and dietitian offer cancer care and health information, provide advice on symptom management, nutrition and diet, and help clients cope with their diagnosis and treatment. Their personal consultations are tailored to meet the specific needs of individuals.
Medical knowledge and cancer information along with self-care, symptom management and nutritional advice is provided to groups through talks and workshops led by our professional staff and medical advisors. Various workshops target clients with specific cancer types, from the point of diagnosis to during and after treatment.
Rehabilitation, Haircut and Wig Services
We provide exercise classes, free wigs, hair care services and equipment loans to help clients cope with the physical side effects and symptoms of their cancer.
We provide eligible clients with funding to help assist individuals and their families facing short-term financial emergency during especially difficult times. We also offer advice on securing government social welfare support.
Ordering of Nutritious Products
Our Hong Kong Cancer Fund Support Centres offer a wide range of nutritional products and self-care items at a discount rate. Products include milk powders and other products designed to help improve your quality of life.
Our 'LINK' newsletters provide a calendar and descriptions of the support services and wellness programmes offered by Hong Kong Cancer Fund Support Centres.