Face-to-Face Street Fundraising
Hong Kong Cancer Fund conducts a face-to-face street fundraising programme. Our passionate and energetic street fundraisers work tirelessly in different areas of Hong Kong to promote our work and mission to the general public. Our goal is to recruit them into our Circle of Friends as monthly donors.
As we don't accept funding from the government or the Community Chest, monthly donations from our Circle of Friends are critical to provide us with a stable income and sustain our free ongoing services throughout our five CancerLink support centres.
All of our street fundraisers work directly for the Hong Kong Cancer Fund. They are an integral part of our family. 
Ting-Fung Lee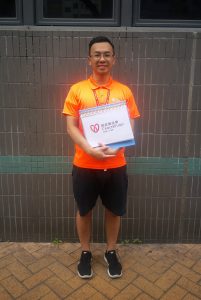 Hello, I'm Ting-Fung Lee, one of Hong Kong Cancer Fund's (HKCF) street fundraisers. I'm 25 years old and was diagnosed with 4th stage colorectal cancer three years ago. I think it was God's will for me to become a part of HKCF. I saw a job ad recruiting HKCF street fundraisers after I was told I had made a full recovery following a series of cancer treatments.
As a cancer survivor, I really want to share what I've experienced from my own cancer journey. Through being a street fundraiser, I hope to promote HKCF's free cancer-care services and raise public awareness of cancer. That's why I took the job. Being a street fundraiser gives me a platform to meet others who are fighting cancer. It's a great opportunity to tell them they are not facing cancer alone.
I've met all sorts of people in the street and have heard many touching stories over the past few months. Some stories are from cancer patients, others are from their relatives, or even their spouses. Listening to them gives me a strong sense that facing cancer in Hong Kong can be very stressful. Why? Because medical costs are so high. A lack of knowledge about cancer can also make people feel helpless.
Being a street fundraiser isn't an easy job! But, no matter how harsh the weather is or how frequently we are rejected by the public, this meaningful job makes up for it all. I feel great satisfaction when I help relieve someone's worries about cancer. I'm so glad to be a street fundraiser, as I think that over time I can make a real difference. When you see us in the street, just come and say hi! All we need is your encouragement, it's great motivation to keep us going!