Street Fundraising
Public Subscription Permit No. (Solicitation of Signed Authorisation Forms):2022/132/2
Hong Kong Cancer Fund conducts a face-to-face street fundraising programme. Our passionate and energetic street fundraisers work tirelessly in different areas of Hong Kong to promote our work and mission to the general public. Our goal is to recruit them into our Circle of Friends as monthly donors.
As we don't accept funding from the government or the Community Chest, monthly donations from our Circle of Friends are critical to provide us with a stable income and sustain our free ongoing services throughout our four support centres.
All of our street fundraisers work directly for the Hong Kong Cancer Fund. They are an integral part of our family. 
September 2023 - Street Fundraising Programme
  Date
  Working districts*
  Sep 1-3
  Southern District/Kwun Tong
  Sep 4-10
  Central & Western district/Kwai Tsing/Islands district
  Sep 11-17
  Yau Tsim Mong/Kowloon City/Tsuen Wan
  Sep 18-24
  Eastern District/Tuen Mun
  Sep 25-30
  WanChai/North district/Yuen Long
*The areas covered in respective districts are based on the Constituency Boundary of 18 District Councils.
Join Circle of Friends monthly donation now!
Fundraisers' sharing
Joe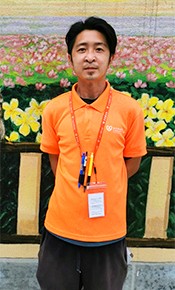 Hello, my name is Joe. I have been a street fundraiser for Hong Kong Cancer Fund for a couple of years and I am devoted to raising funds for their free professional cancer support services. I have survived two pandemics – SARS and COVID-19 – while working in this role. The current global pandemic has made speaking with people on the streets a lot more challenging. For instance, people ask us to stand at a distance while we are sharing about Cancer Fund's free services. The economic disruption caused by the pandemic is even more devastating and has made our frontline fundraising work extremely difficult.
Cancer didn't stop during the pandemic. Therefore, we will keep persevering and give our utmost effort in hopes of helping more cancer patients and their families so they can have a better quality of life. If you ever meet our team members on the streets, please say hello – that would greatly encourage us. Helping those in need is what motivates us.
Yob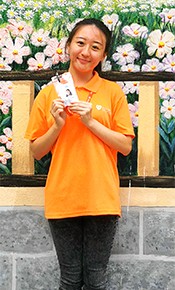 Hello my name is Yob. I have been on the Hong Kong Cancer Fund street fundraising team for the last 9 months and so far this has been the most meaningful job I have ever had. As the number of cancer cases has been surging in recent years, more people are seeking free professional care at Cancer Fund's Support Centres every year. However, our fundraising work has become increasingly difficult due to the economic fallout from the global pandemic. Despite the challenges, I continue to be persistent in my work and my goal is to help offer free professional services to even more people touched by cancer.
One day, I was inspired when a woman smiled at me and nodded her head as a gesture of encouragement on the street as I was working. I had a wonderful opportunity to introduce our free care services to her and to also answer her queries about Cancer Fund. She was touched by my enthusiasm and signed up to become our monthly donor. I was so thrilled. I'll never forget the moment when she touched my shoulder and said, "This job is so tough! I really appreciate your efforts in helping cancer patients."
Sometimes, I meet people affected by cancer on the streets and some of them stop and freely share their traumatic and sad cancer journeys. In turn, I would always try to encourage them. I have learned that it helps cancer patients and their carers to listen to their experiences. Their emotions are released and they feel cared for. I'm so thankful for Cancer Fund's mission to ensure no one faces cancer alone.