Students get on their bikes for Hong Kong Cancer Fund
Two local university students have recently returned from a fundraising challenge to cycle the coastline of Taiwan in 18 days, raising money for Hong Kong Cancer Fund.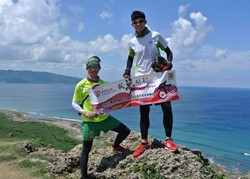 To date, Bone Tam and Alpha Wong have raised over HK$26,000, which will go towards our free cancer support services.
Often cycling in bad weather, Bone and Alpha, faced some hardships on their journey however they always remembered that these difficulties would pale in comparison to those faced by cancer patients everyday.
On route, the boys visited local cancer centers and were greatly moved by the messages and conversations they had with young patients. One written message from a 10 year old girl, in particular, touched their hearts. Her message said, "My mother taught me to give in ways to help people in need, so I donate my hair for wigs and hope to make a small contribution."
Bone and Alpha took on this challenge to offer hope and encouragement to cancer patients during difficult times. Along the way they themselves were inspired and encouraged by many different people.
Hong Kong Cancer Fund would like to thank Bone and Alpha for their amazing effort and would like to extend this thanks to all those who donated to this campaign.
It is our mission to provide free support services to all cancer patients to ensure that no one faces cancer alone. With support like this no one will.
To read more about their adventure please click on their "Bike with Dream" Facebook page: www.facebook.com/BikeWithDream
If you'd like to donate to the cause please visit the fundraising website, "Bike With Dream" – www.cancer-fund.org/diy/view.aspx?pid=55&lang=EN
You can now create your own personalised fundraising page to raise funds towards our free cancer support services. In just a few steps, you can create a unique webpage for a special event or activity, where you can invite friends or colleagues to make a donation directly to Hong Kong Cancer Fund.
If you'd like to find out more about DIY fundraising please click on the following link – www.cancer-fund.org/en/fundraising.html