South Island School Makes a Difference
Teachers and students from South Island School rallied together more than 1,300 participants for a sponsored hike through Aberdeen Country Park on 1st February, in order to raise funds and awareness for Hong Kong Cancer Fund's free services.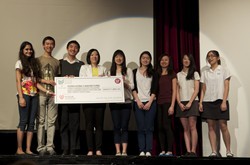 Inspired by their teacher's husband, who has been diagnosed with non-Hodgkins lymphoma, students from SIS organized the event themselves, which raised over HK$300,000 to help those touched by cancer.
Our heartfelt thanks go out to everyone who took part, in particular to committee member Shirley Wang, who managed to put together this hugely successful event while simultaneously securing her place at Cambridge University. The generosity and efforts of all involved will go a long way to helping us ensure that no one faces cancer alone.