"P&G 6 Mins Protect a Life" Campaign by P&G and Hong Kong Cancer Fund
In support of women's cancer, Hong Kong Cancer Fund and P&G joined hands to launch the "P&G 6 Minutes Protect a Life" campaign to raise awareness of women's breast, ovarian, uterine and cervical cancer at a press conference held on 8th April at Times Square, Causeway Bay.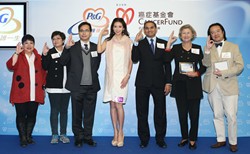 The campaign's launch included Mr. Ajit Nayak, General Manager of Procter & Gamble Hong Kong, Ms. Sally Lo, Founder and Chief Executive of Hong Kong Cancer Fund, and Dr. William Foo, Clinical Oncology Specialist and Medical Advisor to Hong Kong Cancer Fund who discussed various aspects of women's cancer.
In addition, two cancer survivors and friends of Hong Kong Cancer Fund discussed their diagnosis and how Cancer Fund's support and free services helped them on their journey.
Famous Taiwanese actress Miss Lin Chi-ling was also invited as an ambassador to help promote awareness as part of the campaign. On stage, she gave the audience a demonstration on how to conduct the 6- minute self-breast check. Miss Lin Chi-ling also reminded us the importance of women's cancer prevention.
These important representatives spoke in an effort to increase awareness of women's cancer and to encourage the public to have regular checkups. Finding cancer sooner rather than later can increase the chances of a successful recovery.
Photo album of Press conference, please click here.
"P&G 6 Min Protects a Life" mini site: www.cancer-fund.org/6minsprotectalife/eng