Magical Christmas arrives at Rainbow Club
[Hong Kong, 24 December, 2013] Father Christmas made a special journey from Santa Claus Village, Rovaniemi in Finland to bring festive joy to the children of Rainbow Club.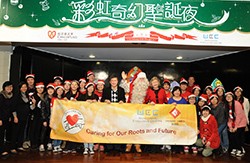 Close to 200 children and family members from Rainbow Club, a free service of Hong Kong Cancer Fund for children touched by cancer, got a real Christmas treat this winter. They enjoyed entertaining drama, a video, as well as an interactive storytelling experience with Santa Claus. The event, organised by the 'Creating a Magical Moment for Children in Need' project of Worldwide Executive Centre (WEC) and Causeway Corner, and held in collaboration with Hong Kong Cancer Fund aims to share joy, help and hope to children in need. Christmas carols filled the room while smiling children exchanged well wishes with other children who have also experienced cancer in their family.
"Holidays are always such a sensitive time for children whose families have been touched by cancer. I am so glad we are able to give those we serve at Rainbow Club a very magical Christmas. It was sheer delight to see so many smiles." – Sally Lo, Founder and Chief Executive, Hong Kong Cancer Fund
The atmosphere, buoyed by Santa Claus' presence, was amazing and had plenty of buzz. The children's happiness was evident when they received a present from Santa Claus. With everyone making a wish at the same time, they ended the evening with a message of hope.