Kowloon Cricket Club Bowls Over Cancer Fund with Record Team of Participants in this Year's SFC
Hong Kong Cancer Survivor Mike Kennedy enlisted the support of his fellow friends at the Kowloon Cricket Club to participate in this year's Stride for a Cure (SFC) – Hong Kong Cancer Fund's annual walkathon to raise money for cancer research.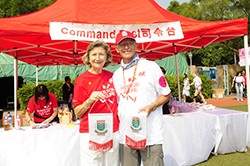 Held in Tai Tam on 29 November 2009, with more than 2,800 overall participants, the Kowloon Cricket Club enrolled a team of 38 walkers, ranging from 17 to 73-years old, among which, 11 were cancer survivors, having had been diagnosed with breast, colon, prostate, and skin cancer in the past.
For Mike and his wife, this was their 5th year participating in Stride for a Cure, three of which took place before Mike was diagnosed with prostate cancer.
Voicing his commitment to the cause, Mike said: "I'm a great believer in supporting charities and when one is so close to the disease of cancer, there is a great incentive to help others."
"I'm proud to say that each year my wife and I have got more walkers involved and aware of what the Cancer Fund does. One day there will be a cure."
When asked why it's so important to help raise money for cancer research here in Hong Kong, Mike said: "It means a great deal to me to help raise money for cancer research, and when it helps others then it is very satisfying."
"The other survivors said the same thing," Mike remarked.
"In fact, all of our walkers did the walk with this in mind. We are all delighted that we managed to raise a good sum of money for an excellent cause," said Mike, whose team of 38 participants helped to raise well over HK$150,000!
Investing in the Future of Cancer Care
Knowing that by investing in cancer research, the treatment, prevention and quality of cancer care can be improved for others, people like Mike and other fellow cancer survivors are eager to help.
When asked what sort of research he would most like to see benefit from funds raised through Stride for a Cure, Mike mentioned the prevention of hereditary disease, which is applicable to cancers such as breast, colorectal and ovarian.
Thanks to money raised through Stride for a Cure, Cancer Fund has been supporting a hereditary screening programme for families at high-risk of developing colorectal cancer in our community for several years, helping to ensure early detection and prevent the incidence of colorectal cancer from rising in Hong Kong.
Hope in Every Step
But what about those people who are now living with or affected by cancer? What message of comfort and encouragement can be passed on? As Mike says, "Don't give up hope. Try and remain positive. Many things happen if you believe; and many people survive cancer."
To know more about Stride for a Cure and cancer research projects funded in 2009, please visit: www.cancer-fund.org/sfc