As news of Hong Kong's 2009-2010 Budget was announced, anti-tobacco campaigners and health advocates were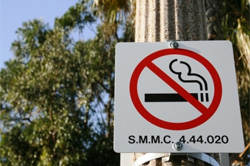 pleased to hear that local tobacco duty is set to increase 50% with immediate effect, following repeated calls from health experts for the government to consider raising tobacco taxes.
According to reports in the South China Morning Post, before yesterday's 50 per cent rise, the last time the government put up the duty was in 2001.
As new fiscal measures were unveiled, Financial Secretary John Tsang was quoted as saying, "The duty on cigarettes will increase from around HK$0.8 to about HK$1.2 per stick. We will also continue to step up our efforts on smoking cessation, as well as on publicity and enforcement in tobacco control," citing the importance of public health.
Hong Kong Cancer Fund – who assist thousands of people each year who are living with or affected by cancer – believes this is a positive step forward, and a measure that will help deter young people from taking up or continuing to smoke. Cancer Fund's Chairman Sally Lo said: "A significant duty increase like this, combined with public awareness and tobacco control measures, will further help to minimize the burden of chronic illnesses such cancer in our community."
To view details on the medical and health components of the 2009-2010 Budget, please click here: http://www.budget.gov.hk/2009/eng/budget48.html
To view Hong Kong Cancer Fund's Anti-Smoking website, please visit:
http://www.cancer-fund.org/stopsmoking/html/eng/index.html