Hong Kong Cancer Fund promotes well-being and holistic care for all
Hong Kong Cancer Fund today launched a brand new website dedicated to well-being and holistic care.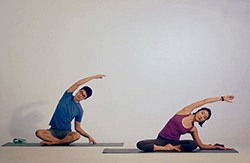 This new site is a hub for knowledge on health and wellness, great for anyone looking for complementary healing methods for themselves or their loved ones.
It also features instructional videos of some of the most popular holistic classes from the charity. The range of videos online target both beginners and the more advanced, and include warm up and basic yoga postures, intermediate yoga postures and total relaxation and breathing.
Shiao-Kuang, Head of Wellness and Holistic Health Care at Hong Kong Cancer Fund, commented: "Thanks to technology, we are now able to offer a selection of our wellness programmes online, making them available to anyone, anywhere at any time! We hope this will enable many more people, who may not be able to attend our classes in person, to experience the numerous benefits of these holistic practices and achieve greater wellbeing."
Wellness and holistic healing activities bring about many physical and mental benefits for cancer patients. These practices have been proven to decrease depression, ease stress and anxiety and promote positivity in those who take part.
Hong Kong Cancer Fund currently runs a wide variety of programmes such as Yoga, Qi Gong, Tai Chi, Pilates, the Feldenkrais Method, Emotional Freedom Technique (EFT) and art therapy for cancer survivors. Each programme is carefully designed and implemented by compassionate and professional instructors who have a passion for living well.
Click here to visit the new webpage and to find out more – www.cancer-fund.org/en/wellness.html