Experience an adventure like no other while helping those in need!
Fly away with us to the exotic climes of Cambodia this June, as we explore the ancient mysteries of one of Asia's most beautiful countries. Organised by Travel Expert, Gateway Group and ABOUTAsia Schools, this promises to be an unforgettable experience for the whole family. A portion of the package price will be donated to Hong Kong Cancer Fund, so that we can continue to help members of our community who have been touched by cancer.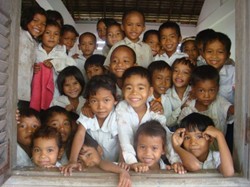 Marvel at the incredible beauty of Angkor Wat, one of the world's greatest relics from an ancient civilization, and explore the shores of Tonle Sap, the country's scenic central waterway. Unwind in a luxurious five-star hotel and spend an activity-packed day at a school run by ABOUTAsia Schools, a progressive non-profit organization that brings immediate, targeted aid to Cambodian children and schools. Visit their website to learn more about what they do: www.aboutasiaschools.org
Please join us on this once-in-a-lifetime adventure and help those in need both here and abroad. Book your places early as numbers are limited and our quota is filling up fast. To find out more about the itinerary, cost and how to register for the trip, simply click here for the details.