Cancer Fund nominated at TVB Most Popular TV Commercial Awards
Our 25th Anniversary television commercial has been nominated for an award at this year's TVB Most Popular TV Commercial Awards, and you can show your support by voting for us online.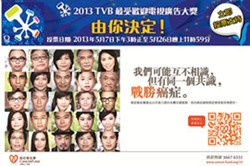 To celebrate 25 years of providing free services and support to people living with cancer in Hong Kong, we gathered together 25 supporters, survivors and friends of Hong Kong Cancer Fund to share their stories in a specially produced TV commercial. Our ad has now been nominated in the "General" category at the TVB Most Popular TV Commercial Awards.
To show your support, simply visit the official awards website http://event.tvb.com/tvcawards/ and cast your vote on or before 26th May. Should we be lucky enough to win, it will mean greater exposure for Hong Kong Cancer Fund and help raise awareness about our network of free services.
Click here to watch our 25th Anniversary TVC.