Breast Cancer Survivor on the Ride of Her Life
"I, like many other people, fear cancer. In December 2004, I was very upset when I was diagnosed of breast cancer. However, after learning that the recovery rate for breast cancer can be very high, I decided to be positive, and face my treatment with optimism. Breast cancer bought me fear, but also a very interesting life, as I opened up my life, forming new friendships both at home and abroad.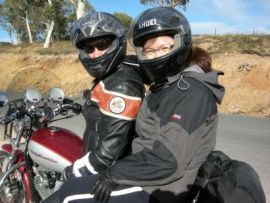 Once I completed treatment in 2005, I joined the first breast cancer dragon boat team formed here in Hong Kong. We race locally and internationally, and went overseas to places like Singapore in 2006 and Australia in 2007 to race with fellow breast cancer survivors. Through these activities, I have made friends with fellow survivors from around the globe.
In May of 2009, I joined 40 fellow breast cancer survivors to embark on a journey of a lifetime. We rode 31 Harley Davidson motorcycles with 3 supporting vans from Brisbane to Sydney under the guise of Amazon Heart Thunder, a unique advocacy group that helps to build awareness for women living with breast cancer. In the group, we had breast cancer survivors from the US, UK, South Africa, New Zealand, Australia and Hong Kong.
The whole journey was very interesting and challenging. On the road, we encountered the biggest rainstorm that has ever occurred in Queensland in the last 3 decades, causing us to make many detours. Our trip covered more than 2,000km, exceeding the 1,000km originally planned. We drove in rain, wind and sunshine, averaging 8 hours per pay on bike. Sometimes it was incredibly cold and windy; but we persevered. No one gave up or pulled out.
As one participant in the ride said: "We made it! Rain, hail, or shine, we just kept on thundering forward, 2249km, just because we CAN! What a RIDE, we loved every moment of it. A journey never to be forgotten. Sharing so many special moments. 40 women touched by the beast, 40 girls, strong and determined to live life to the full."
Over the course of our adventure, we raised awareness of the diverse needs of women living with breast cancer, raised funds for breast cancer support services and continued along our own personal path of growth and healing. It truly was the adventure of a lifetime!
This event was also a great avenue to help raise money for the Hong Kong Cancer Fund. I made use of their DIY fundraising tool on their website, inviting friends and family members to make a donation directly to the Cancer Fund in support of my initiative. All my friends found the DIY fundraising webpage convenient and easy to use, making it simple to show their support.
To create your own fundraising initiative on Cancer Fund's website, visit:http://www.cancer-fund.org/en/fundraising.html
– Mingi Pither Yeung