Vote for your favourite Rigby & Peller swimwear to support Pink Revolution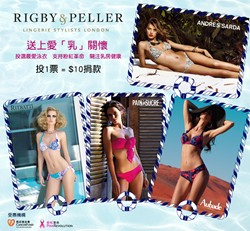 Please vote for your favorite swimwear design by Rigby & Peller Facebook fan page. For every vote cast, Rigby & Peller will donate HK$10 to our Pink Revolution to help those touched by breast cancer. Don't delay in showing your support, and invite your friends to vote too.
Vote here (only applicable to desktop version).