20 February 2012
What is Street Fundraising?
Face-to-face street fundraising is a common means of fundraising among non-profit organisations. Cancer Fund's street fundraisers explain our free cancer services to the public and invite them to join our monthly giving programme – Circle of Friends.
Since 2004, our street fundraisers have raised more than HK$65 million for the Cancer Fund. Thanks to the continual and regular support of our monthly donors, we are able to maintain free services in our three CancerLink Support Centres.
Why is street fundraising important to the Cancer Fund?
The Hong Kong Cancer Fund does not receive any funding or support from the Hong Kong Government or the Community Chest. All our services rely on public generosity.
It is the most cost-effective form of fundraising.
Street fundraising allows us to reach people who may not be aware of who we are and the free cancer support services we provide to the community. Street fundraising allows us to have face-to-face discussions with people about our work and mission in detail.
Apart from asking for monthly donations, we also help to promote a cancer smart society and if people we meet are affected by cancer, we refer them to our free network to access professional guidance and support.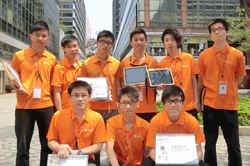 Who are Cancer Fund's street fundraisers?
Hong Kong Cancer Fund employs an in-house team of street fundraisers to serve as our Ambassadors. They are a group of enthusiastic and energetic young people who work tirelessly to help recruit new monthly donors for us.
Where can we see your fundraisers?
You can find them anywhere in Hong Kong. They are often stationed on busy streets, in large shopping malls or near MTR exits. If you come across them, do say hi!
How to recognize Cancer Fund's street fundraisers?
Our street fundraisers will be wearing their work I.D. with their name and photograph.
They will be wearing a bright orange Cancer Fund tee or windbreaker.
Our street fundraisers do not accept cash donations. If you'd like to become a Circle of Friends member, all you need to do is to fill out the donation form.
Our street fundraisers only work in teams. They do not work alone so you should be seeing a team of individuals in bright orange uniform.
Face-to-Face Monthly Giving Alliance
Hong Kong Cancer Fund is a founding member of the Face-to-Face Monthly Giving Alliance. As a charity-led and self-regulatory membership body, the Alliance promotes accountable face-to-face (F2F) fundraising practices, for monthly donor recruitment. It sets professional standards and practical guidelines for such practices, and enhances the public's understanding on their rights before engaging in monthly giving to charitable organizations.
The Alliance recently launched the Code of Practice on Face-to-Face Monthly Donors' Recruitment. The Code provides practical guidelines and sets professional standards for conducting monthly donor recruitment on the streets of Hong Kong. It is made available to charitable organizations as well as members of the public as reference.
To find out more information please visit the Face-to-Face Monthly Giving Alliance Website.
Daniel Ho: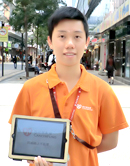 Hi, my name is Daniel Ho and I have been working as a Hong Kong Cancer Fund street fundraiser for two years. I still recall my first day as a fundraiser very well. 
Fundraising on a busy street is not always easy, and is completely different to what I was expecting! It can be really tough trying to approach pedestrians when they are walking so quickly, also people are quite sensitive about disclosing their personal information to a stranger on the street and many people have already donated to other charities. All these factors can make my job very difficult. Fortunately, there are still many people who come and talk to us voluntarily and are willing to know more about Hong Kong Cancer Fund, and support us by committing to a monthly donation.
Because of my job, I have met many cancer survivors and have heard many touching stories! They really impressed me with their tough, brave and optimistic outlook. I remember a 20 year-old woman, who was diagnosed with stomach cancer right after she graduated from University. However, she faced her diagnosis with a positive attitude and after several months of treatment, including having large parts of her stomach removed, she recovered. During that tough time, she continued to study medicine and now she is a doctor. Her story tells us that we should always be optimistic, no matter how bad things get, it is important to remain upbeat and positive. She really inspired me a lot and had a great impact of how I live life!
I hope that more people will become a part of the Cancer Fund family by joining our "Circle of Friends" and making monthly donations. With your generosity, we can continue to provide our free services and professional support, ensuring that no one faces cancer alone.
Cheung Man Chung: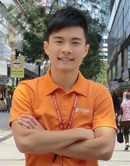 Hello, my name is Chung and I have been working as a street fundraiser for Hong Kong Cancer Fund for over a year now. I have had several relatives diagnosed with cancer and watching them go through their journey I became aware that cancer not only affects the patient, but also the people around them. Hong Kong Cancer Fund's mission is to ensure that no one faces cancer alone, and for this reason, I decided to join the team and help raise funds for those touched by cancer. 
It is a challenging and exciting job to introduce Hong Kong Cancer Fund to the public and invite people to be a monthly donor. The more people that we reach on the street, the more they will know where to seek help if they have friends or family diagnosed with cancer. No matter what the weather is or how many times we are rejected by people, we continue to work and try to raise the necessary funds. Compared to what the cancer patients go through, the adversity we experience on the street is nothing. We would do anything to help those touched by cancer. 
Many influential people like Anita Mui and Roman Tam (famous artists in Hong Kong), Szeto Wah (a Hong Kong Democracy activist) and Steve Jobs (the Ex-CEO of Apple), have passed away from cancer. It is evident that cancer affects everyone, regardless of your social status or wealth. It is important to remember that no matter who you are, anyone diagnosed with cancer needs help and support from others. 
Cancer Fund is Hong Kong's largest cancer support organisation, providing free information and professional support to anyone living with or affected by cancer. They are there to help manage the physical, emotional, psychological and social challenges brought about by a cancer diagnosis. Their work includes: improving treatment facilities for cancer patients in hospitals, funding cancer research and treatments, public education and so much more. 
I am proud to be a street fundraiser for Hong Kong Cancer Fund and I am so committed to my work. I have gained valuable experience and skills such as interpersonal, sharing and teamwork skills. I sincerely hope that if you ever come across our street fundraisers in the orange uniform, that you come and say hi and join our Circle of Friendsmonthly donation programme. It is more important to give than to receive and I believe you will feel blessed knowing that your generosity is bringing hope to cancer survivors and making their journey a little bit easier!