September 17, 2020 (Hong Kong) – Breast cancer is the most common cancer among women in Hong Kong. On average, one in 15 women will develop breast cancer in their lifetime*[1]. In 2017, there were 4,373 new cases of breast cancer in Hong Kong, a cumulative increase of approximately 61% in the past 10 years*[2]. Leveraging on International Breast Cancer Awareness Month in October, Hong Kong Cancer Fund will host the annual Pink Revolution to raise public awareness for breast health, spread the word and raise funds for the organisation's free breast cancer services.
Celebrating its 20th year, Pink Revolution ambassador Sammi Cheng again calls on Hong Kong ladies to conduct regular breast check-ups with the slogan, "Be Smart. Self-Check"!  Cancer Fund will also host a series of public educational and outreach events surrounding breast cancer; they include Dress Pink Day, Shop for Pink and the newly added Pink Yoga Challenge to recruit more people to the Pink Revolution to raise awareness for breast cancer and to show support to survivors!
As well, their official campaign website (www.cancer-fund.org/pink) will also feature a special page for breast cancer education activities as well as breast cancer info and videos. to promote early detection saves lives.
*[1] Hong Kong Cancer Registry 2019 (2017 Statistics)
*[2] https://www3.ha.org.hk/cancereg/pdf/overview/Summary%20of%20CanStat%202017.pdf
3 Step Self-Check: "Be Smart. Self-Check"
If detected during its early stages, breast cancer patients have a higher chance of recovery and more choices in treatment, including milder alternatives that have less psychological and physical side effects. This year, Hong Kong Cancer Fund's Pink Revolution retains its mantra of "Be Smart. Self-Check" to call upon women to conduct regular self-examinations.
Sammi Cheng, Hong Kong superstar and two-time ambassador of the Hong Kong Cancer Fund's Pink Revolution, says she visits the doctor's office regularly for breast check-ups and encourages friends and family around her to do the same as well. She adds that support from friends and family are paramount for survivors. "Having witnessed a friend battle against the illness, I saw that the cancer has taken a huge toll on her body, especially post-chemotherapy. My heart broke for her but, at the same time, felt that we should remain optimistic and hopeful no matter what."
"Everyone knows someone who has been touched by cancer. Pink Revolution is an opportunity to remind yourself and those you care about the importance of early detection, as well as to raise funds to comfort and support women living with breast cancer. We encourage everyone to join us this October!" said Sally Lo, Founder and Chief Executive of Hong Kong Cancer Fund.
Cancer Fund has also invited Dr. Janice Tsang, their Executive Committee member and Specialist in Medical Oncology, Founding Convenor Hong Kong Breast Oncology Group, to take part in a series of breast cancer educational videos. These videos will be published on Cancer Fund's official YouTube and Facebook pages in mid-September. Stay tuned and share this important information to your beloved friends and family!
1. Look For
Observe the breast and the nipple and note any abnormalities.
2. Feel For
Use the pads of the middle three fingers to examine the breast in dime-sized circular movements for any lumps, thickening of tissue, wrinkles, dimples and unusual colour change. Gently press and check for any discharge from the nipples.

3. Compare
Compare the shape and size of your breast with your last check and establish any differences. 
Event 1: "Dress Pink Day"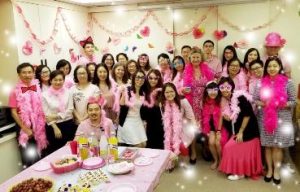 Have you ever thought of your "outfit of the day" may mean more than you think? This year, October 23 is the annual Dress Pink Day when everyone is invited to sport their best pink outfit to raise awareness for breast cancer and show support for those affected by the illness by making a donation. Whether you're in school, in the office or at home, you can show your love and care to breast cancer survivors by turning October 23 or any day in October PINK, and organising a one-of-a-kind Pink Event such as Pink Yoga, Pink Afternoon Tea, Pink Art Jamming, or whatever fun ways you can think of. You can also go Pink online via social media and social conferencing software even amid social distancing.
Donations of HK150 or more will receive a Pink Card Holder Wallet as a souvenir. Funds raised will go to support the production of 'Pink Recovery Packs to those who have just undergone surgery. Don't forget to hashtag #PinkRevolution2020 to share the joy with others when you upload your fun pictures on social media.
Event 2: "Shop for Pink"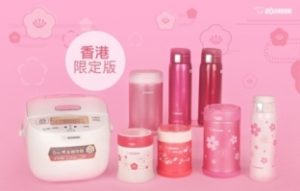 This year, numerous retailers across varying categories have shown their support for "Shop for Pink"; they include the Principal Sponsor AXA Hong Kong and Major Sponsor Zojirushi Hong Kong, which has been the event's key title sponsor for 13 consecutive years, together with other brands like PizzaExpress, underwear label Her own words and city'super etc. They'll all be offering a plethora of pink goods and services in homeware, beauty, fashion, dining, daily necessities and more.
Event 3: "Pink Yoga Challenge"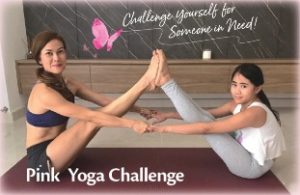 This year's all-new Pink Yoga Challenge hopes to draw a bigger spotlight on breast cancer awareness, especially among younger women. Between 5th-23rd October, participants need a photo or video of their Double Boat Pose with their partner or friend and upload it to Facebook or Instagram with the hashtag #YOGAFORPINK. They must also tag and challenge three other friends with a message of love and are encouraged to make a donation of HK$200 to support Cancer Fund's free breast cancer services. We welcome you to strut your muscles with your better halves, family members and friends to spread and love and change the lives of those affected by breast cancer!
The Double Boat Pose is not an easy pose but it was chosen to show the value of supporting each other at times of challenge. Cancer Fund has also recruited a number of the city's movers and shakers to show us their moves in hopes to raise funds and to promote a healthy lifestyle.
#YOGAFORPINK #hongkongcancerfund #癌症基金會粉紅革命2020 #粉紅革命
#粉紅瑜伽大挑戰 #香港癌症基金會 #PinkRevolution2020 #Besmartselfcheck
About Cancer Fund Pink Revolution
Cancer Fund's Pink Revolution is our annual month-long breast cancer education and fundraising campaign. Every October, we join many organizations around the world to celebrate Breast Cancer Awareness Month to highlight the importance of breast awareness, education and care services. This year, we aim to raise HK$3 million to provide free professional services for women touched by breast cancer. For more information, please visit www.cancer-fund.org/pink