Hong Kong Cancer Fund Annual Breast Cancer Awareness Campaign
Pink Ambassador Sammi Cheng Encourages Women to "Be Smart. Check."

September 15, 2022 (Hong Kong) –  The number of women being diagnosed with Breast Cancer is continuing rise year-on-year. Over the last 10 years we have seen new case numbers increase from 3,025 in 2010 to 4,793  in 2019.* We believe that the rise can be partially attributed to public education with campaigns such as ours being prominent throughout Hong Kong every October.  More women today are aware of the signs of breast cancer and seek medical advice from their doctors earlier. Breast cancer is the most common cancer for women in Hong Kong women
Every year in October, Hong Kong Cancer Fund, joins hands with global cancer charities to highlight breast cancer. Our campaign, Pink Revolution, is honoured to have Sammi Cheng as our Pink Ambassador and reminds everyone to conduct regular check-ups with our 'Be Smart. Check". "I am proud to be once again be the Pink Ambassador to such a worthy campaign which is close to my heart. A few years ago my girlfriend found a lump in her breast and was able to be diagnosed early. She is now fully recovered and I am constantly reminded to check regularly" Sammi said.
The Hong Kong Cancer Fund has long offered free professional services to anyone touched by cancer. During October we have our "Dress Pink Day" on Friday October 21st and "Shop for Pink" which runs throughout the month at selected retailers, The Hong Kong Cancer Fund continues its education and promotional information including a breast cancer-themed webpage (www.cancer-fund.org/pink) featuring related news and breast cancer information, plus educational video's so women can get a more in-depth understanding of their breast health.
Love yourself and conduct regular breast checks: "Be Smart. Check"
According to the Hong Kong Cancer Registry's the first Stage-specific Survival of Breast Cancer report, the five-year survival rate of a stage one-to-four survivors are 99.3%, 94.6%, 76.2% and 29.8% respectively. Evidently, early detection and diagnosis boost the survival rate.
Breast Care
Women of all ages should be familiar with their own breast health so they could receive the proper diagnosis in a timely manner for a speedy recovery. The Hong Kong Cancer Fund reminds women to remain vigilant to any abnormalities in their breasts and to consult the doctor immediately should they find any. Women should also be aware of the risks of developing breast cancer and conduct breast cancer screening on a risk-based approach to ensure early detection for a higher rate of recovery.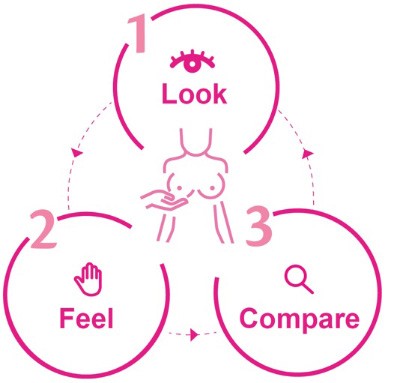 Look For
Observe the breast and the nipple and note any abnormalities.
Feel For
Use the pads of the middle three fingers to examine the breast in dime-sized circular movements for any lumps, thickening of tissue, wrinkles, dimples and unusual colour change. Gently press and check for any discharge from the nipples.
Compare
Compare the shape and size of your breast with your last check and establish any differences.
Event 1: "Dress Pink Day"
Feel the pink power! This year's "Dress Pink Day" on Friday 21st October invites Hong Kongers to sport their best pink outfit to raise awareness for breast cancer and show their support for those affected. Host your one-of-a-kind pink party with your loved ones, snap a shot or video and upload it onto your social channels with the hashtag #PinkRevolution2022. Offer a donation and share the fun of pink with everyone so they can take part too!
Event 2: Shop for Pink
The much-anticipated Hong Kong Cancer Fund's "Shop For Pink" makes a return this year with the support of many more merchants ranging from daily staples, restaurants, beauty, fashion and more! Turn your shopping into an act of charity and visit our Pink Merchants for limited-time exclusive offers. These sponsors include Principal Sponsor MaskOn.; Major Sponsor Zojirushi Hong Kong; gourmet Italian cuisine Pizza Express, pastries from The Royal Garden, renowned skincare XOVĒ as well as undergarment brand Her own words , to name but a few!
*Figures from Hong Kong Cancer Registry 2021
About Hong Kong Cancer Fund
Hong Kong Cancer Fund is the city's largest cancer support organization, providing free information and professional support to anyone living with or affected by cancer. Established in 1987, our vision was to improve the quality of cancer support in Hong Kong and ensure that no one faces cancer alone. We began by offering free information and support, which has slowly expanded over time to address all aspects of care. Our work encompasses professional psychosocial care services, home care, peer support, funding of hospital equipment and local cancer research, public education, and much more, filling the gaps in cancer care.
Hong Kong Cancer Fund's services are free. Receiving no money from the government or the Community Chest, we rely solely on public generosity to sustain our free and ongoing cancer support services. For more information, please visit www.cancer-fund.org.
About Cancer Fund Pink Revolution
Cancer Fund's Pink Revolution is our annual month-long breast cancer education and fundraising campaign. Every October, we join many organizations around the world to celebrate Breast Cancer Awareness Month to highlight the importance of breast awareness, education and care services. This year, we aim to raise HK$3 million to provide free professional services for women touched by breast cancer. For more information, please visit www.cancer-fund.org/pink.