24 February 2017
We are committed to providing accurate and current cancer information to anyone touched by cancer, ensuring they are well-informed and supported. With our array of cancer booklets covering over 30 titles, we hope to help everyone understand cancer better with information about the different types of cancer, risk factors and symptoms, from diagnosis through to recovery.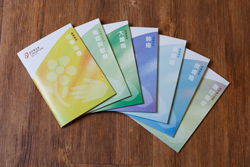 Our cancer booklets are a valuable reference especially for people with cancer; equipping them with practical information after their diagnosis, potential treatment options and tips on survivorship.
With generous support from ANZ, we started revamping our cancer booklet titles in 2015, incorporating the latest cancer information in a new, easy-to-read layout. All booklets are reviewed and endorsed by Hong Kong medical professionals who provide their expert advice.
Newly updated English titles for download:
Colorectal cancer

Download here

Skin cancer

Download here

Lymphedema

Download here