Founded by Sally Lo in 1987, the Hong Kong Cancer Fund is the city's largest cancer support organisation and the Official Charity of the 34th GFI HKFC 10s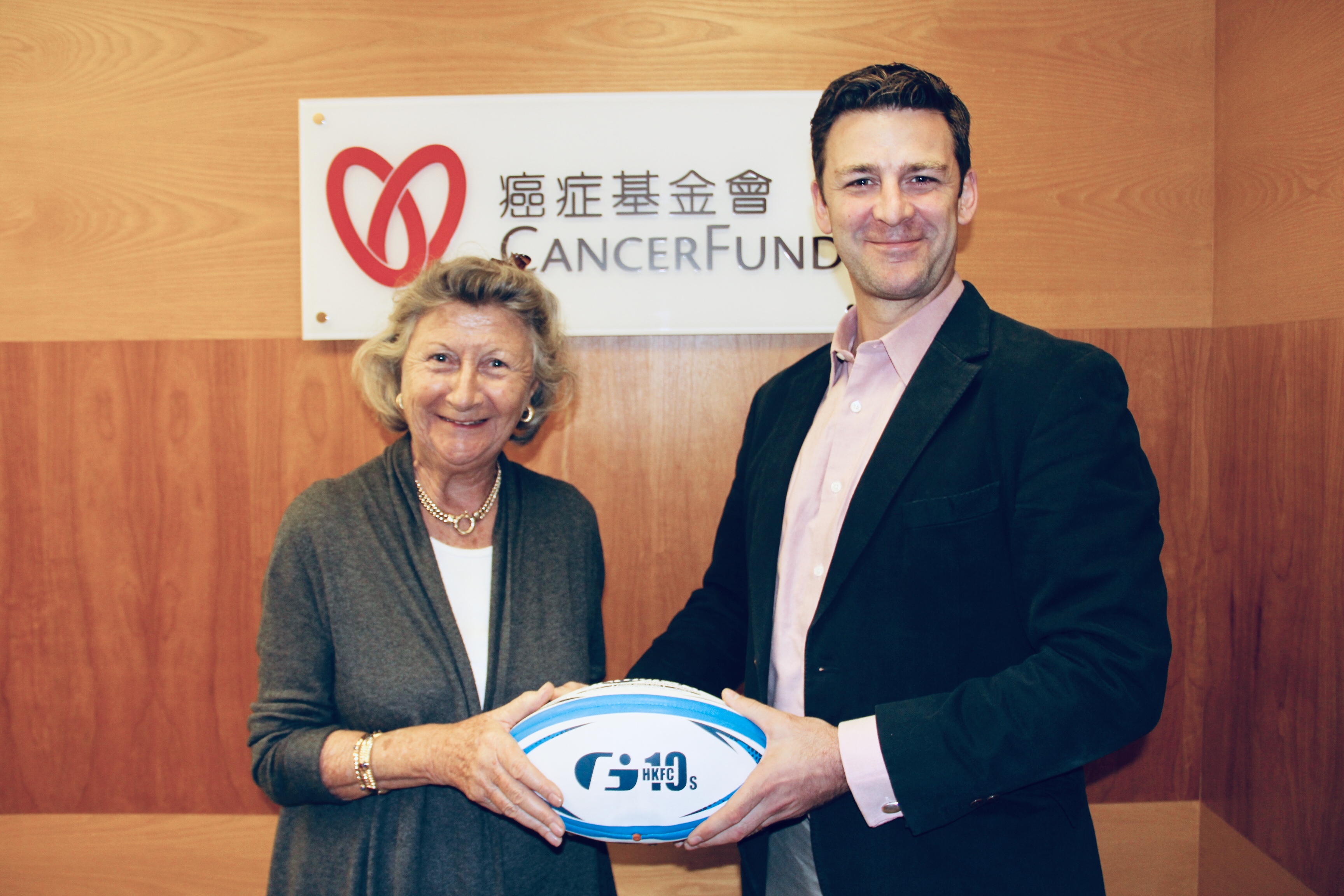 Hong Kong; February 12, 2019: Hong Kong Cancer Fund has been appointed as the Official Charity of the 34th GFI HKFC 10s from April 3-4, the Wednesday and Thursday before the Hong Kong Sevens.
Hong Kong Cancer Fund is the city's largest cancer support organisation, with five CancerLink support centres in the community and Cancer Patient Resource Centres at seven major public hospitals.
A registered non-profit organization, the Cancer Fund offers all its services for free, receiving no money from the government or The Community Chest. Its work encompasses psychosocial services, public education, cancer research, home care, peer support, complementary therapies, funding of hospital equipment and much more.
"Our mission has always been to ensure that no one faces cancer alone and to improve the quality of cancer support in Hong Kong. The services we provide make a huge difference to the lives of cancer patients, survivors, their family members and caregivers. The side effects of cancer can last long after treatment, requiring years of on-going follow-up care. Cancer Fund is there to support survivors as well as families," said Lo, who serves as the Chief Executive of the organisation. "With our professional bilingual staff, our support is available to everyone touched by cancer."
"We are very honoured to partner with Gareth Wilde and GFI HKFC 10s. Working together hand-in-hand, I believe the world's best 10s will help put a much needed spotlight on supporting cancer care in this city and to improve the lives of those we serve. This is an exciting opportunity for us and we're so grateful to Gareth and his team."
Gareth Wilde, Chairman of the tournament's Organising Committee, said Hong Kong Cancer Fund was an ideal charity for the GFI HKFC 10s to support.
"I've been overwhelmed by the work done by Hong Kong Cancer Fund and inspired by Sally and all the team members we've already met. Their work is outstanding and we hope to play our small part in helping support the incredible work they do across the city," Wilde said.
"Unfortunately, cancer is something that will directly or indirectly affect many of us at some point during our lives. Our 'I'll be there' tagline for this year's GFI HKFC 10s works really well for Hong Kong Cancer Fund, which is all about supporting all of those affected.
"I'm personally very proud that the world's best 10s is partnering such an admirable, proactive organisation that will play a strong part in this year's event, which looks set to be the best, most competitive yet."
Biarritz Gavekal – formerly UBB Gavekal – will bid for a third successive Cup title at Hong Kong Football Club in early April, while 2018 runners-up Tradition YCAC and two-time champions Grove Penguins will again be among the top-seeded teams.
The line-up has been boosted by the return of three-time champions Asia Pacific Dragons (APDs) after a year's absence and the eagerly awaited debut of a Mourant Fiji Army side led by Isake 'Ice' Katonibau, who helped Fiji win the last four Hong Kong Sevens.
Inaugurated in 1986 to celebrate Hong Kong Football Club's centenary, the GFI HKFC 10s has long attracted the game's top players including seven All Blacks who won the 2015 Rugby World Cup – Conrad Smith, Jerome Kaino (both 2003), Ben Smith, Charlie Faumuina (both 2008), Beauden Barrett, Sam Cane (both 2010) and Nehe Milner-Skudder (2013).
GFI has title sponsored the event since 2006, while other sponsors and suppliers for 2019 include Natixis (Gold Sponsor), AIA, Allied World, DHL, Q-Net and Taikoo Place (Silver Sponsors), CBRE, Latham and Watkins, and Markel (Bronze Sponsors), Kerry Hotel (Official Sponsor), Grolsch (Official Beer), and Samurai Sportswear (Official Apparel).
34th GFI HKFC 10s; April 3-4, 2019
Teams (selected highlights)
Biarritz Gavekal (Cup winners 2017, 2018)
Tradition YCAC (Cup runners-up 2014, 2015, 2018)
Grove Penguins (Cup winners 2013, 2016)
Asia Pacific Dragons (Cup winners 2012, 2014, 2015)
Mourant Fiji Army (Debut 2019)
Samurai International (Cup runners-up 2010, 2013, 2016; Plate winners 2018)
A-Trade Overseas Old Boys (Plate winners 2016; Plate runners-up 2018)
Projecx Waterboys (Plate semis 2016, 2017, 2018)
Kir Club Pyrenees (Cup semis 2009; Plate winners 2017)
Taikoo Place Scottish Exiles (Cup semis 2015; Bowl winners 2018)
Hunter and Boo East Africans (Bowl runners-up 2018)
Classic Wallabies (Bowl semis 2017, 2018)
Tiger Rugby (Bowl semis 2018)
Natixis HKFC (Shield Winners 2012, 2016, 2018)
Irish Vikings (Bowl runners-up 2009, 2017; Shield winners 2010, 2013)
Shanghai RFC: The Silver Dragons (Shield winners 2017)
For more information, visit:
Website:          www.hongkongtens.com
YouTube:         www.youtube.com/hkfc10s
Facebook:        www.facebook.com/GFIHKFC10s
Twitter:            www.twitter.com/GFIHKFC10s
Instagram:       www.instagram.com/gfihkfc10s
Hashtag:  #HK10s #worldsbest10s