Don't Wait Till It's Too Late
Hong Kong Cancer Fund, on 17 June, launched its colorectal cancer campaign, 'Don't Wait Till It's Too Late'- a public education campaign highlighting the causes and risk factors of colorectal cancer and how best to avoid them.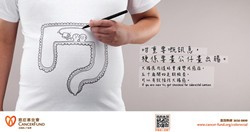 As colorectal cancer remains the second most common form of cancer and the second biggest cause of cancer deaths in Hong Kong, informing the public on prevention and early detection remains our priority.
This year's campaign comprises of a series of high profile advertisements and educational events which stress the importance of screening, and inform the public on how to make simple, yet important, lifestyle changes to dramatically reduce the risk of developing the disease.
Our award winning TV commercial on colorectal cancer will be broadcasted widely on television and online platforms to remind the public of the importance of early prevention through screening. (Please click the here to watch our TVC .) Educational posters covering MTR stations and bus shelters will be visible around the city.
We also have Professor Yuen Siu Tsan, from the Department of Pathology at The University of Hong Kong, sharing his knowledge on this disease in a series of half-hour radio programmes (Chinese) aired on Commercial Radio 1, every Tuesday at 10.30pm from 18 June until 9 July.
Furthermore, in co-operation with St. Paul Hospital, Hong Kong Cancer Fund is offering members of the public discounted colonoscopy packages, with the basic option starting from $7,200. A colonoscopy is the best screening test available for colorectal cancer. This offer is limited to 200 places on a first-come-first served basis. (To apply you must 50 years old or above and send in your application on or before the 31 July 2013. To claim the offer, call 3656 0800 between 9am and 6pm.)
Experts agree that you can dramatically reduce your risk of developing colorectal cancer by adopting a healthy lifestyle and undertaking regular screening.
Maintaining a healthy weight, eating well, keeping active and not smoking will help minimise the possibility of getting colorectal cancer.
In order to improve survival rates it is vital to identify people at risk and to detect polyps – pre-cancerous growths in the lining of the bowel – that lead to colorectal cancer. Beginning at the age 50, both men and women should establish regular testing once every ten years to screen for the disease, but individuals who have a history of certain polyps, some genetic conditions or a family history of colorectal cancer should be tested at a younger age and be far more vigilant.
Visiting your doctor for regular screening is essential. A simple and regular checkup can effectively prevent colorectal cancer and offer peace of mind.
Early detection saves lives. Don't wait till it's too late.
For more information, please click here: www.cancer-fund.org/colorectal