CONNECT – Hong Kong Contemporary Art Exhibition and Hong Kong Cancer Fund Charity Auction
CONNECT
Hong Kong Contemporary Art Exhibition and Hong Kong Cancer Fund Charity Auction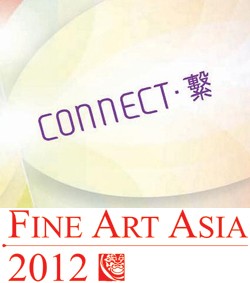 It is scientifically proven that the entire human race is connected. We all share a common thread, joined by our emotions, experiences and empathy. This year, CONNECT brings together the work of more than 20 contemporary artists, who reflect on the links that bind us all.
Hong Kong Cancer Fund – who champion the importance of community – strongly believe in the importance of art in conveying emotions and bringing people together.
This year, Hong Kong Cancer Fund celebrates its 25th Anniversary of providing free information, professional guidance and peer support to anyone living with or affected by cancer.
In honour of this milestone, CONNECT will donate proceeds from an artwork charity auction towards Hong Kong Cancer Fund's free services, in particular, their peer support network that unites all those touched by cancer – helping patients and their families gain strength through support.
Venue: Fine Art Asia 2012 Hall 5, Hong Kong Convention and Exhibition Centre Booths P12
Date: VIP preview 3/10/2012 (Wed) 2:00pm-9:00pm Open to public 4-6/10/2012 11:00am-7:00pm 7/10/2012 11:00am-6:00pm
Silent auction: Option 1: download bidding form and send to Hong Kong Cancer Fund Please send to Hong Kong Cancer Fund (Email – [email protected] or Fax – 3667 2100) on or before 3/10/2012 12:00pm
Option 2: On site bidding, which will be closed at 3/10/2012 8:00pm
Artpiece information:
Lot 1 – heaven on earth 3
| | |
| --- | --- |
| | Artist Name: anothermountainman (Stanley Wong) Artpiece Material: Inkjet printing on archival rice paper with wooden frame Artpiece Size: 175(h) x 61.3(w)cm Year of Artpiece: 2009 Creative Concept:     heaven on earth/ installation/ anothermountainman mirage in his eyes / oasis from your angle / for me… it is heaven on earth |
Lot 2 – Mysterio
| | |
| --- | --- |
| | Artist Name: Simon Birch Artpiece Material: Oil on canvas Artpiece Size: 75(h) x 75(w)cm Year of Artpiece: 2010 |
 Lot 3 – SimSky no.30
| | |
| --- | --- |
| | Artist Name: Sim Chan Artpiece Material: Oil on Lycra with handmade wooden frame Artpiece Size: 84.9 (h) x 43.5 (w) Year of Artpiece: 2011 Creative Concept:     Humans have always attempted to apply mathematical logic to quantify the structure of material and immaterial substance with units of measurement. The desire to transpose limits within the infinite world and at the same time, seek limitless within these defined limitations still remains ambiguous. If "空" is used as a unit, what structure would it quantify? What material/immaterial substance would it evaluate? "空" could be sky; "空" could be air; "空" could be space; "空" could be free; "空" could be symptoms; "空" could be nothing at all? |
Lot 4 – Feng Shui furnishing minis encyclopedia
| | |
| --- | --- |
| | Artist Name: Halley Cheng Artpiece Material: Ball pen, pencil, charcoal, copic sketch and oil on wood Artpiece Size: 92(h) x 92(w)cm Year of Artpiece: 2011 Creative Concept:     My Ball pen painting is an open system, is about association of images. The images come from my daily life and Chinese paintings. I like the way Chinese understand the world through paintings, it is a collective, long-term observation and association of particular subjects throughout history. Heritage is an important concept in Chinese painting but it is not my concern. I just respond the ancient paintings in my way. My work is about the tranquility status when I started to paint, which finally result a diffusive, intuitive and non-rational association between objects. It takes me a long time to get along and precipitate with the paintings. |
Lot 5 – No Man should be an Island
| | |
| --- | --- |
| | Artist Name: Cheung Wai Man, Eunice Artpiece Material: Ink and colour on silk Artpiece Size: 51(h) x 75(w)cm Year of Artpiece: 2012 Creative Concept: To face the critical illness, is like a declaration of war. The whole family is forced to battle or be defeated. You and I may be peace lovers, do not want to participate in a cruel war. In those hospitalized days of my beloved family members, I went visiting and care them frequently. The painful sickness made them unstable in emotion and got angry with themselves that they were making troubles to others. Sometimes, your care could be rejected or depreciated. In recent years, global warming and marine pollution caused strange disease to many African Penguins, their beautiful black and white fur fall down and become naked. They are in sickness like human do. Today, Daddy Penguin suggests the whole family to go sailing to relax and enjoy each other companion. Let's take a break and get refreshed, we could gear up again. "Two are better than one, because they have a good reward for their labor. For if they fall, one will lift up his companion. But woe to him who is alone when he falls, for he has no one to help him up." —Ecclesiastes 4:9-10 |
Lot 6 – Trammels
| | |
| --- | --- |
| | Artist Name: Fung Lik Yan, Kevin Artpiece Material: Painted wood Artpiece Size: 153(h) x 9(w) x 9(d)cm, 145(h) x 9(w) x 9(d)cm; Set of 2 Year of Artpiece: 2012 Creative Concept: "Obstinate are the trammels, but my heart aches when I try to break them. Freedom is all I want, but to hope for it I feel ashamed. I am certain that priceless wealth is in thee, and that thou art my best friend, but I have not the heart to sweep away the tinsel that fills my room. The shroud that covers me is a shroud of dust and death; I hate it, yet hug it in love. My debts are large, my failures great, my shame secret and heavy; yet when I come to ask for my good, I quake in fear lest my prayer be granted." Rabindranath Tagore. "Gitanjali: Song Offerings No. 28" |
Lot 7 – Dancing with the shadows
| | |
| --- | --- |
| | Artist Name: Koon Wai Bong Artpiece Material: Ink on silk Artpiece Size: 150(h) x 25(w)cm Year of Artpiece: 2012 Creative Concept: This artwork is considered my response to the cultural encounter between China and elsewhere. On one side, the use of brush and ink in the paintings addresses the equivocal relationship to China's deep cultural past; on the other, the outlook of the work embraces a conflation of Chinese deep cultural identity with the modes of expression in the contemporary art. |
Lot 8 – Beautiful Journey
| | |
| --- | --- |
| | Artist Name: Kum Chi Keung Artpiece Material: Mixed media Artpiece Size: 65(h) x 65(w) x 45(d)cm Year of Artpiece: 2012 |
Lot 9 – Engraved Art Education on the blackboard I
| | |
| --- | --- |
| | Artist Name: Lam Laam, Jaffa Artpiece Material: Paint on recycled Crate Wood Artpiece Size: 52.5(h) x 49(w) x 8(d)cm Year of Artpiece: 2012 Creative Concept: "Art for money"could be a question or an answer. It always around the corner of my mind when I think back over the blooming art market in Hong Kong recent year. It could be nonsense, whereas I do treasure the freedom in philosophic space here, towards every detail of the life. |
Lot 10 – E.T. (the Extra-Terrestrial)
| | |
| --- | --- |
| | Artist Name: Lam Yau Sum Artpiece Material: Enamel paints on circuit board Artpiece Size: 25(h) x 17(w)cm Year of Artpiece: 2012 Creative Concept: Life forms, forests and cityscapes are the elements that commonly found in the work of Lam Yau-sum. Using the circuit on an electric board as a start, an extraordinary type of painting is represented through the imagined image constructed by the very fine lines on the board. The skillful play of lines on a two, as well as three-dimensional space, makes the work lingering between the abstract and the figurative. Such kind of landscape was developed over the past few years. |
Lot 11 – Transparent Sceneries
| | |
| --- | --- |
| | Artist Name: Lam Yau Sum Artpiece Material: Installation Artpiece Size: 30(h) x 18(w) x 18(d)cm Year of Artpiece: 2012 |
Lot 12 – water drop
| | |
| --- | --- |
| | Artist Name: Lee Chin Fai, Danny Artpiece Material: Stainless steel, wood, iron Artpiece Size: 100(h) x 36(w) x 36(d)cm Year of Artpiece: 2012 |
Lot 13 – sparkling, growing, swimming
| | |
| --- | --- |
| | Artist Name: Leung Ka Yin, Joey Artpiece Material: Drawing pen on paper Artpiece Size: 45(h) x 62.2(w)cm (each); Set of 3 Year of Artpiece: 2012 Creative Concept: Once desire is in the mind, instead, it accumulates and wanders inside the body. Metaphorically, one could imagine that somebody carelessly swallowed a seed and inside the body it germinated, grew slowly and eventually pierced the delicate skin of the body. As the desire matures, it manifests with our tangible self and becomes visible and touchable. |
Lot 14 – INTEMET09-13
| | |
| --- | --- |
| | Artist Name: Leung Kui Ting Artpiece Material: Ink on paper Artpiece Size: 47(h) x 38(w)cm Year of Artpiece: 2009 |
Lot 15 – INTEMET09-2
| | |
| --- | --- |
| | Artist Name: Leung Kui Ting Artpiece Material: Ink on paper Artpiece Size: 67(h) x 69(w)cm Year of Artpiece: 2009 |
Lot 16 – Jia Ren I
| | |
| --- | --- |
| | Artist Name: Leung Yee Ting Artpiece Material: Ink & colour on paper Artpiece Size: 128(h) x 60(w)cm Year of Artpiece: 2011 Creative Concept: She likes the artistic spirit of traditional Chinese painting and the poetic expression. She is trying to capture the small interest and appeal of daily life. She always tries to search for a peaceful and clam atmosphere throughout the works and to catch the feeling of the moment when inspiration booms. Hoping that audience could feel the gentle and soft endowment of female artist from the painting. |
Lot 17 – Under the Shade
| | |
| --- | --- |
| | Artist Name: Li Wei Han Artpiece Material: Stoneware and umbrella Artpiece Size: 36(h) x 29(w) x 16(d)cm Year of Artpiece: 2011 |
RESERVE PRICE: HK$32,800
Lot 18 – Weaving Intimacy (Body Lines) No.G4
| | |
| --- | --- |
| | Artist Name: Man Fung Yi Artpiece Material: Stainless steel Artpiece Size: 38.5(h) x 35.5(w) x 6.5(d)cm Year of artpiece: 2009 Creative Concept: Making metal lattice in the form of weaving silk threads to construct fragile yet powerful strength. Moreover, it also deconstructs the boundary between inside and outside- the way of poetic and introvert expression. I make starry pattern of holes like the act of "embroidering" to create the cosy and weightless feeling. Light penetrates and interacts with the artwork which creates fascinating shadows. This year, inspired by her research on the Chinese historical costumes and vestments, she skillfully uses her family and her past clothing to lift up her expression among body, memory and gender. She reduces the weight of the artwork to convey the feelings of spirituality, gentleness and delicacy. |
Lot 19 – Footsteps of Nature No.2
| | |
| --- | --- |
| | Artist Name: Mok Yat San Artpiece Material: Bronze Artpiece Size: 18(h) x 31(w) x 19(d)cm Year of Artpiece: 2012 Creative Concept: The worm footsteps on the bauhinia leaves indicate the everlasting nature and represent the significance of sustainable development. |
Lot 20 – The Lonely Island
| | |
| --- | --- |
| | Artist Name: Tang Kwok Hin Artpiece Material: Adhesive photos on glass Artpiece Size: 80(h) x 80(w)cm Year of Artpiece: 2012 Creative Concept: "The Age of Great Voyages" series combine my daily photos of objects taken around the world and images of ocean taken from internet. The sea as a metaphor of information explosion describes submerged civilization. If audiences regard this series of work as photographs, not simply collages, it is more interesting. |
Lot 21 – Songs
| | |
| --- | --- |
| | Artist Name: Tsang Chui Mei Artpiece Material: Acrylic on canvas Artpiece Size: 96(h) x 122(w)cm Year of Artpiece: 2012 Creative Concept: "Mountains, sea, birds, forest… singing in the moment." Tsang's works are mostly related to accidental convergence, imitation and appropriation. From the obvious to the metaphor, some sorts of subjective, inexpressible emotions are inspired. |
Lot 22 – A Cool Night
| | |
| --- | --- |
| | Artist Name: Tsang Chui Mei Artpiece Material: Acrylic on canvas Artpiece Size: 122(h) x 61(w)cm Year of Artpiece: 2012 "The scene of a lake in a cool and calm night." Tsang's works are mostly related to accidental convergence, imitation and appropriation. From the obvious to the metaphor, some sorts of subjective, inexpressible emotions are inspired. |
Lot 23 – Untitled
| | |
| --- | --- |
| | Artist Name: Wong Chak Hung Artpiece Material: Oil painting Artpiece Size: 100(h) x 50(w)cm Year of Artpiece: 2005 Creative Concept: His discrete work is not very much syncretic with the art convention in Hong Kong and China. He uses a body of mosaic work that explores the local reference as vehicle for communication, including his paintings on large-scale canvas and Chinese rice paper. To the general public, his strategy of using simple and open-form composition is a low threshold where forms. The facts can easily replace one another for easy comprehension. He has for years taken the MTR mosaic as the oeuvre for his spiritual mediation of this bustling city. His little squares and the MTR mosaics are all in the same size of 1:1; his paintings are all 100% comprising simulations of urban situations that his hyper-realistic counterparts can never dream of. While issue matters, Chinese philosophy is deeply embedded in Wong's mind. His mosaic paintings are neither imbued with the western illusionistic depth and perspective, nor forging a virtual historical dialogue. '1:1 100%', is knowingly sarcastic. It bespeaks the relationship of reality and Wong's painting in a twofold, bilateral dimensions; it on the one hand cynically refers to the global art movement of hyperrealism to which the pseudo-realistic and exaggerated imageries of painting are attached; it hinges on the condition of art which can also be far off from reality, seemingly abstract, free of social memory and cultural symbol on the other. |
Lot 24 – Blue Iris
| | |
| --- | --- |
| | Artist Name: Wong Lai Ching, FionaArtpiece Material: Porcelain, stain Artpiece Size: 9(h) x 13(w) x 24(d)cm (each) Year of Artpiece: 2011 Creative Concept: I use porcelain as an art language to create an aesthetic dialogue between form and material. |