Cheaper drugs relief for cancer sufferers (programme ended)
Some 200 cancer patients a year will benefit from a new HK$42 million pilot scheme to subsidize expensive drugs.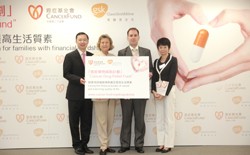 The Hong Kong Cancer Fund yesterday launched the Cancer Drug Relief Fund, a three-year scheme, which will extend subsidies, currently available to low-income groups, to the sandwich class.
Global pharmaceutical giant GlaxoSmithKline will contribute HK$25 million to the fund.
The fund will subsidize two types of drugs; topotecan for cervical, ovarian and small cell lung cancer, and lapatinib for breast cancer.
The drugs may help patients to control their symptoms and prolong survival through a better quality of life.
Tammy Leung Yuk-chun, the fund's head of service, said in many cases the cost of a full course of medicines may exceed HK$20,000 a month.
Both drugs are listed under the Hospital Authority drug formulary, but only topotecan is not covered by the government's existing drug assistance.
"Lapatinib is covered by the Community Care Fund but we will try and match the patient's need in our cancer services," Leung said.
Permanent residents, who are being treated in either public or private hospitals, may receive help if they get a referral letter from their doctor.
Low-income groups will be fully reimbursed while the sandwich class will have to pay 20percent of the cost.
"With more and more families coming to us for help, it is my hope that the fund will help lessen the financial burden on these cancer patients," Leung added.
Of the 600 projected cancer quotas for three years, half will go to breast cancer patients, 120 to small cell lung cancer patients, while those with ovarian and cervical cancer will both get 90.
Source: The Standard