CancerLink Tin Shiu Wai Opens, Completing our Network of Support
In the early part of this month, Hong Kong Cancer Fund completed its network of support with the opening of CancerLink Tin Shui Wai. As our third cancer support centre within the community, CancerLink Tin Shui Wai extends our free cancer support services to the remote corner of New Territories West, serving communities in Yuen Long, Tin Shiu Wai and Tuen Mun.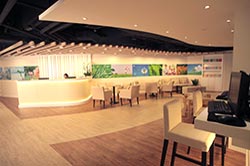 This 3rd centre will act as a haven for patients and their families who are living with or affected by cancer. Staffed by a team of nurses, social workers and therapists – the centre will provide essential information, guidance, counselling, practical support and a network of friendships for people in New Territories West living with cancer – just like our other CancerLink centres. It will also accommodate the needs of children who are adversely affected by a parents' diagnosis with the introduction of The Rainbow Club.
Core services available at CancerLink Tin Shui Wai include: • Free professional advice: cancer information hotline, drop-in consultations, resources library, educational talks, new patient orientation. • Rehabilitation programmes: nutrition talks, nursing consultations, wig and equipment loads, managing side-effects and after-surgery care. • Psychosocial support: clinical counselling, insomnia workshops, art/music/drama therapy, cancer fighter workshops. • Family services: homecare, family counselling, couples workshops, financial assistance. • Peer support: meeting and activities that bring together people living with or affected by cancer in the same neighbourhood.
Thank you to everyone who made a generous donation towards the set-up and operation of this new centre; enabling us to extend our compassion and support to thousands of affected individuals who may be otherwise facing cancer alone. If you or someone you know would like to access our free support in this area, please find us at the details below:
Where to Find CancerLink Tin Shui Wai Shop 201, 2/F, Kingswood Ginza (Phase 2) 12-18 Tin Yan Road Tin Shui Wai Yuen Long New Territories Tel: 3919 7070 Fax: 3919 7099 Hotline: 3919 7000 E-mail: [email protected] Opening hour : Monday to Thursday & Saturday: 9am to 6pm Friday : 9am to 10pm Sunday & Public holidays : Closed