Bowel Cancer Awareness Day in Shatin Reminds the Public About the Importance of Early Detection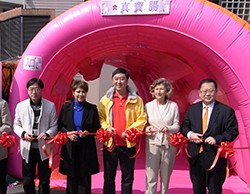 Hong Kong Cancer Fund took part in Bowel Cancer Awareness Day yesterday in Shatin, organised by the Chinese University of Hong Kong. The purpose of the event was to help spotlight the growing number of colorectal cancer cases in our community and urge the public to undergo routine screening to ensure early detection.
As the 2nd leading cancer affecting Hong Kong men and women, and also one of the most preventable, early detection is vital to bringing this cancer under control. For more information on colorectal cancer and prevention, please click here.