How many times do you reach for a bag every day? A shopping bag, a food bag in the kitchen, a bag for your rubbish bin, a sports bag, a handbag, a stoma bag…
Some people reach for their stoma bag twice a day.
Colorectal cancer is the second most common cancer in Hong Kong, yet it is highly preventable with screening. For anyone over the age of 50yrs old it is advisable to discuss with your doctor different screening procedures. If polyps are detected they can easily be removed.
Surgery is often used to remove the cancer, there are some instances in which a large portion of the digestive tract must be removed or the bowel cannot be immediately reattached. In these cases, a temporary or permanent stoma bag is required.
John was one of these people and had to learn to live with a stoma bag. At the Cancer Fund we have trained professional teams to help John and anyone touched by cancer to navigate not only their diagnosis, but their cancer journey and their lives into survivorship.
To continue to provide these services we need your help. Can you help us raise the HK$3million that we need to ensure that our team can give the FREE professional support that is in such a high demand here in Hong Kong?
Please help us continue to bring hope and confidence to our clients and their families.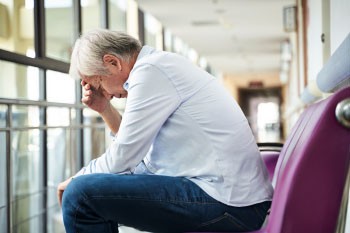 "When the doctor first told me I had colorectal cancer I couldn't believe it, why me? What had I done wrong?" John told us when he first met our team at our Wong Tai Sin Centre.
John was 68yrs old when he was diagnosed in 2018. His wife had passed away a few years earlier and his children were grown up with families of their own. John lives on his own in Shatin.
John said "I had my surgery in Prince of Wales Hospital which was really close to where I live. My doctor was amazing but when I went home it really hit me. I was on my own and didn't want to touch my stoma bag, I found it disgusting. I felt so many emotions all at the same time, anger with what had happened, anger that my beautiful wife wasn't here anymore to help me, then sudden waves of sadness. I didn't know what to do, or who to talk to. How was I going to manage changing this bag all by myself? I just sat there on my bed staring at the wall.
Eventually I went back to the hospital and asked them to help me change my stoma bag. The nurse was amazing but they are so busy and I felt like I was bothering them too much, but she told me about the Cancer Fund and felt that I could go there and talk to them. I didn't really want to go, but I also didn't know what else to do.
When I went to the Centre I met with Wan Ke and he was amazing! I was so pleased that I had overcome my embarrassment and gone to the Cancer Fund. He was so understanding and helped me talk through all of my concerns, I thought I would find it difficult to talk to him about how I felt with the stoma bag, but he made me feel so comfortable and listened to everything I was saying.
Everything changed. Over the weeks he also helped me deal with my anger and stress that I was unable to control before having sessions with him.
He also told me that the Cancer Fund has a designated support group for Stoma patients and it was just around the corner from their Centre, he even walked me around to show me where they were!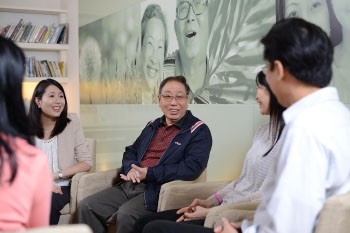 I met with other survivors who had been through the same surgery and same emotions that I was going through. They explained the stoma bags remained invisible under clothing and then they actually took me through the daily preparations and routine care for the bag. They helped me to understand that this was something that as a survivor I had to adapt to and that I would be able to manage this as part of my daily life.
The Cancer Fund also kindly gave me a stoma care pack which included some bags and skin care cream which was such a blessing. I didn't want to tell anyone that I thought they were expensive and was a little concerned at how much I would have to spend every month on them.
That first day I walked into the Cancer Fund Support Centre changed everything for me. I have been going back to both the Stoma Centre and the Cancer Fund Support Centre on a regular basis and receive so much help, guidance and care and it was all free of charge. I thought maybe my wife was looking down on me and giving me a helping hand and guiding me to them."
At the Cancer Fund we understand the journey like John and so many other people are facing every day. But we need your help. We need to raise much needed funds to continue to provide our much needed FREE professional support.
HK$500 – Will subsidise a patient to receive professional dietitian advice/ holistic well-being consultation
HK$1,000 – Will support one month's supply of stoma care packs for a patient
HK$1,500 – Will strengthen our pool of Hardship Fund which can provide immediate financial aid to cancer patients and their family members
We do not receive any funding from the government or the Community Chest and rely solely on the kindness of people like you. Only through your generosity can we reach our target of HK$3 million. Your donations really do make a difference.
With your support, our team can restore confidence, provide reassurance and give back control to all those who need it through our free professional care services. We will continue to work towards a future where survivors can look forward to leading full and productive lives, without penalty from their treatment or status as a cancer survivor. You can help make this vision a reality.
Overcoming cancer requires more than just medicine. You are really making a tremendous difference to peoples' lives through your generosity.
Thank you for helping to ensure no one faces cancer alone.